Back to top
FAQ
Where can I retrieve my finisher certificate?
Your finisher certificate will be available on the results page of our website a few days after the race.
Will there be photos of the race?
Yes
Professional photographers will cover the general event and many photos will be posted online after the event.
We are also likely to have specific areas covered with photographers so that you can purchase photos for your use, etc
Can I have my bib sent to me before the race?
No.
All bibs must be collected in person either the day before the race (Between 16:00 and 20:00) or on race morning.
Are the courses marked/how are the courses marked?
The courses are marked with a mixture a flags, tape, and biodegradable spray paint.
As a general rule the course will be marked at every junction or other area where you could be in doubt where to go.
Navigational skills are not necessary but it is vital that you remain aware of the need to foolloow the route marking and not assume that everyone that is ahead of you has done so.
If you reach a junction that has no race marking then you should retrace your steps until you find a junction with route marking and follow route from there 
Whilst we will have some marshals out on the course at critical points like road crossings points, most trail junction will not be marshaled so you are responsible for following  the marked route.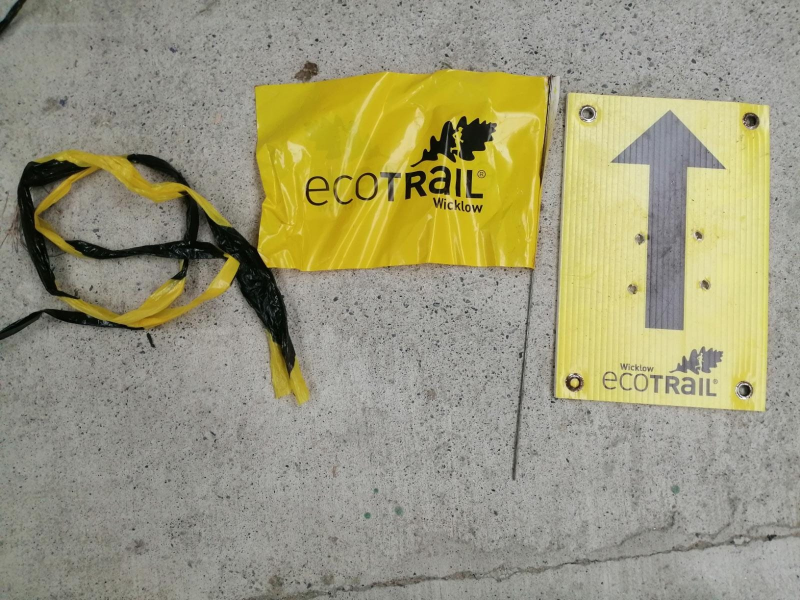 How accurate are the distances/how are they measured?
We aim to provide accurate distances for all event but being a trail event with significant off road and elevation gain and loss means that these distances cannot be guaranteed accurate to the nearest few meters.
Distance and elevation is first measured in a mapping software and then confirmed on the ground by a Stryd foot-pod - currently the gold standard in measuring trail races and significantly more accurate than GPS. 
In general most GPS watches will come close to the official measurements but it depends on your GPS software, the satelitte coverage in your area, the recording mode you have selected on your watch or phone, and how well you run the 'optimal line' on the trail. Our official course measurers put great care to run the optimal lines while measuring the routes with the foot-pod. 
The foot-pod contains an accelerometer which measures exactly how far the pod moves across space in three dimensions (forwards/backwards, side to side, and up and down) providing nearly 100% accurate readings even where there is poor satellite coverage. So should you find that your GPS recording is slightly different than official course distance and elevation it is likely a combination of GPS inaccuracy and not having run the optimal line on the trails (such as when you run the outside of bends instead of taking the straight line from the middle of each curve in the bend - not always an option when you are racing or tired).
Will the routes be closed to the public?
No.
You can expect to encounter other trail and road users along your journey and show them the same courtesy you would like to receive under similar circumstances.
On all road sections stay aware of traffic and follow marshals instructions at all times particularly at road crossing points.
What type of running shoes are recommended for the EcoTrail Valencia event?
Trail shoes are strongly recommended for all distances in the EcoTrail Valencia event
Regular road running shoes are not suitable for the mix of trail surfaces that are included in all distances.
These trails include significant sections of gravel, rocks, roots, grass and most likely mud particularly in case of recent wet weather.
There are some short sections of tarmac but these are relatively insignificant apart from in the 80km event
Will there be drop-bags allowed on the course?
No
You are expected to carry everything you require for the duration of the race including food.
Water is available at the advised location for refil of your container only.
Please do not leave bags on the route as this is against race rules and will result in disqualification.
Personal/external support with provision of drinks, food, clothing, etc on the route is strictly forbidden.
Use of shops/cafes along the course is permitted.
We need to ensure the event is fair for all participating and external support is not "fair play".
Do you provide live tracking facilities?
You can set up live tracking for yourself using the RaceONE app. Plese read this article for full details.
• 19 km tracking
• 30 km tracking
• 46 km tracking
• 81 km tracking
Note this does not provide a live leaderboard or give you any indication of your position. Not everyone in the race uses the tracker. It is for individual tracking only.
Please do not attend the event as a supporter unless it is permitted as permitted and advised at the time of the event
We have gotten revised relaxation of restrictions from the government and we are now confident that the event will be able to proceed on October 29th 2022.
There are likely to be some Covid related changes to the bib pickup, aid stations and finish for 2022 but the event will take place as generally planned 
All places are filled, the name and distance change deadline has passed and no new places are being released
Thank you for your continued support of the event
Are running poles allowed in the races?
Yes, poles are allowed but may not be used in the start and finish area.
Poles should also not be used while overtaking or while being overtaken.
When using the poles remember it is your responsibility to avoid hitting or tripping up other runners etc.
Please only use poles if you are experienced and well practiced in using them whilst running and walking
Can my supporters track my position live at all times?
No. Currently, we do not provide live tracking services.
Our team can see which runners pass which checkpoints although there can be a delay from the time a runner registers at a mat until the Race HQ can see their split time. If a runner does not show up in our system at a certain time it does not mean the runner is not there.
Runners can sign up to use their phone to allow supporters to track them through the independent app 'RaceONE'. However, GPS signal through phones can be limited in places meaning that the signal will not always be perfect. Do not rely on this tracker for emergencies as it is only designed to aid with support.
If during the race you need to provide priority updates to your supporters or emergency contact, your primary means of communication should be your mobile phone.